Stratford Symphony Youth Orchestra
Winter Term Registration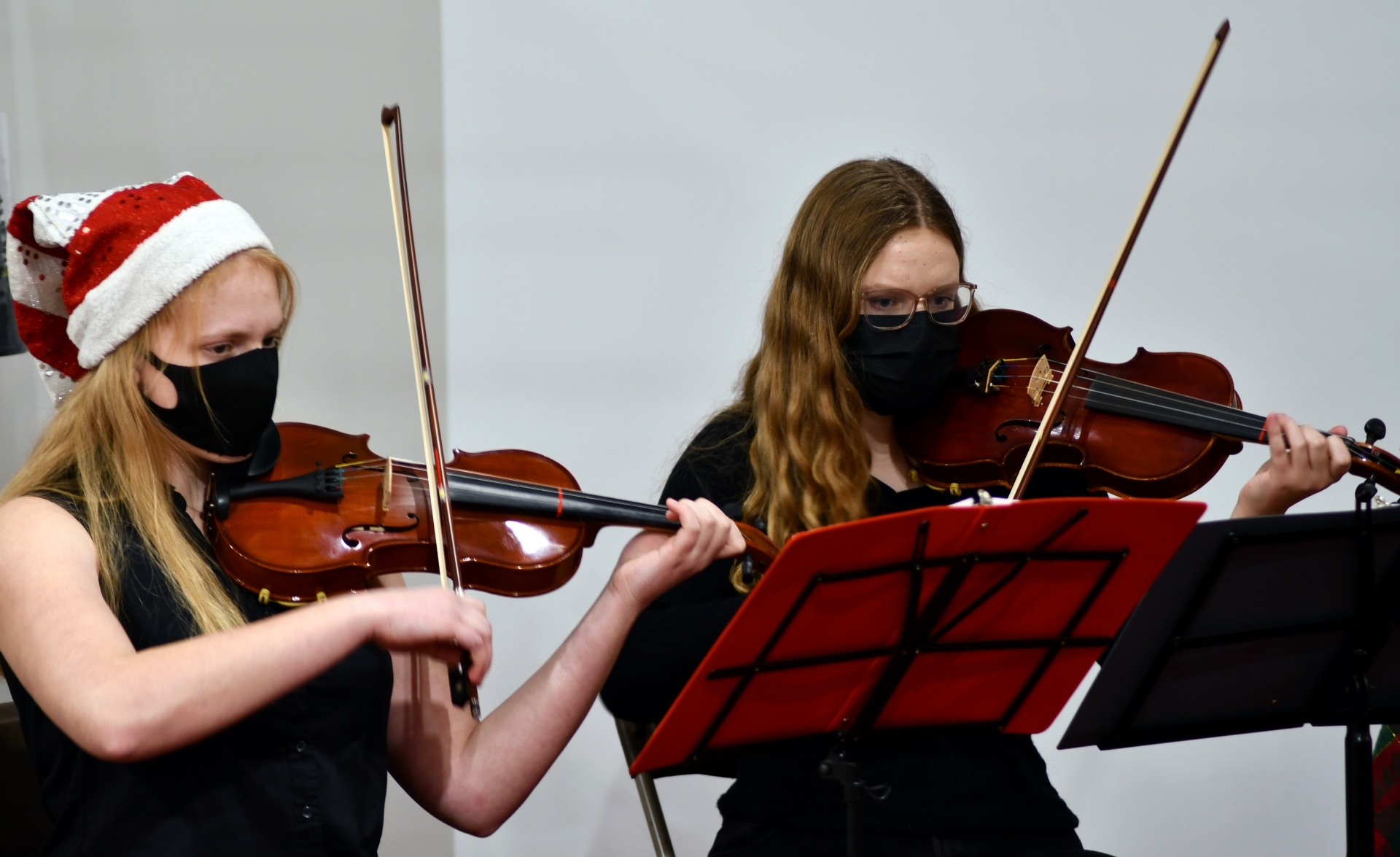 Dominique Pasma (left) and Aimee Oosterom (right) at the SSYO Winter Concert.
Photo Credit: Good Work Agency
After a successful debut in fall 2021, the Stratford Symphony Youth Orchestra is beginning their winter term on January 17, 2022 in a temporary online format. With current health restrictions prohibiting in person rehearsals, the ensemble will be offering a unique approach to online learning, with masterclass style rehearsals split between the strings and winds to begin the year.
Virtual, online rehearsals will be held Monday evenings.
Following a short inaugural term in 2021, conductor Éric Charbonneau is excited to embark on repertoire that will inspire young musicians in 2022, aiming to create a lifelong enjoyment of orchestral music. "To launch into 2022 we will be working on one of the greatest melodies in the repertoire: the hymn from Holst's Jupiter" says Charbonneau.
Regarding the SSYO's debut last fall, Charbonneau added that he was moved by the community that was born from the young musicians sharing their art and can still remember how proud they were at their first concert last December. "I hope that with each term, we are able to welcome new musicians from Stratford and surrounding areas to our SSYO family, so that many young
musicians can experience the joy of ensemble playing."
"The value of a musical education is immense, and needs to be available to everyone," says SSO Music Director William Rowson. "Music provides enrichment that lasts a lifetime. I am so pleased that the SSO has taken steps to foster playing opportunities for young musicians in Stratford and the surrounding area, and look forward to working with a new generation of music makers."

To find out more or join the SSYO, please email ssyo@stratfordsymphonyorchestra.ca
The SSYO is one of the newest additions to the education and outreach programs delivered by the Stratford Symphony Orchestra, a professional orchestra of 50 musicians under the direction of Principal Conductor William Rowson. The SSO is very active in Stratford and surrounding areas performing live and filmed concerts; delivering education programs; providing music outreach services; and creating engaging music activities for all ages.